Aluminum sectors used in the facades of Saudi buildings,
There are different types of aluminum profiles used to install glass, used for facades,
but there are some sectors that are considered the most common in Saudi Arabia.
The most common types of sectors in Saudi Arabia
Smart Strip
It is a sector with a width of 5 cm while its length starts from 7.5 cm up to 13.5 cm,
and the length of the sector used is determined, based on the length of the building.
For example, if there is only a three-storey building, then this section is used,
which is 5 cm wide and 7.5 cm long.
While large aluminum profiles are used in giant towers or buildings,
which do not have load-bearing walls and it is preferable that the thickness of the section be large.
This type of section is also installed, using a scale, so that the glass façade is flat.
The use of the scale is very necessary, based on the use of the scale,
distance between the aluminum profile and the building wall is determined.
The aluminum profile is also fixed by a frame (insulated galvanized corners) that is fixed to the wall of the building and the aluminum profile.
Where this is done through a fixing bolt in aluminum, and the part attached to the wall is fixed with a concrete stud (concrete stud).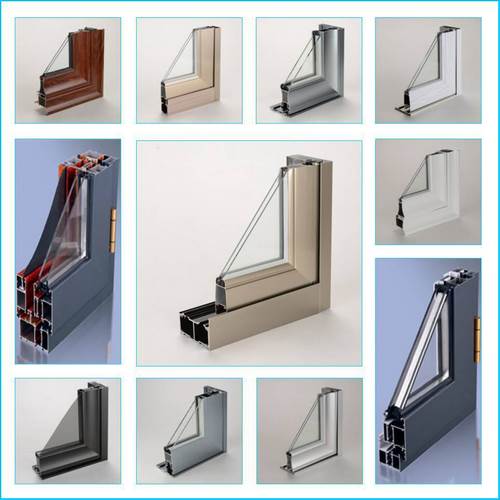 Doral sector
The doral sector is also one of the most common sectors in Saudi Arabia, as there are two types of it.
The first type is the half-section of the doral section, in which the façade glass is installed on one side only,
and it is used when making glass for internal windows.
As for the second type, it is a complete doral sector,
where the glass is installed from two sides, and the doral sector is more expensive per meter than the smart sector.
Aluminum sectors used in the facades of Saudi buildings
This is due to the fact that in the case of the smart segment, the glass is installed directly on the segment,
while in the case of the Dural, the glass is installed inside an aluminum ring with a depth of up to 6 cm.
Also, in addition to the aesthetic appearance of the dural sector, it is better than the smart one,
and it has better insulation quality.
How to install façade glass panels on buildings
A scale is made for the entire building, to determine the distance from the building,
and then the aluminum profiles are installed horizontally and longitudinally with the same sector used.
If you are using a SMART segment, the uprights and transverse SMART segment are formed.
After that, the glass is installed inside the throat,
and inside the throat there are gaskets (rubbers) to fix the glass well and to isolate water as well.
You may like: Lean Building Applications