Integration of art and technology in interior spaces,
When designing a new home, it's fairly common for technology to be an afterthought rather than the primary focus of the process.
Televisions, speakers and electronics are often only considered after all the design elements have been chosen
(paint colors, flooring, trim work, furniture,
window treatments, etc.) carefully or evenly install them.
The idea of ruining the thoughtful aesthetic of a room by introducing wires and a bunch of black boxes can test even the best of marriages.
But technology and design can coexist without significantly compromising system performance or internal design.
It simply takes a little creativity, careful planning,
and a partnership between a technology integrator and design professionals.
television
Have you ever noticed how many TVs are installed above fireplaces? Not because people necessarily want to put a TV there.
This is because the fireplace is usually designed to be the focal point of the room and the TV ends up being placed directly above it.
Many agree, but others think having a large black rectangle is the primary focal point of the room
Not a desirable aesthetic choice!
Fortunately, the industry has come up with several ways to decorate your TV or hide it entirely:
Digital art
Some TVs have a "Digital Art" mode that can make your TV look like a painting, a family photo,
or any image you want to display.
Some even come with a light sensor to make the artwork respond to your room's
lighting in a way that makes the artwork look more natural.
Automated elevators
There are dozens of options that make clever use of motorized lifting mechanisms that can conceal your TV in a variety of ways.
Art Lift allows you to hide your TV behind a real piece of art that can slide up or to the side to reveal the TV when turned on.
Other motorized lifting mechanisms can lift your TV up out of a cabinet or lower it from a hiding place in the ceiling.
You can also pivot the TV left or right toward the viewer.
Amplifiers
The ability to play music anywhere in the house or yard is one of the most requested features we get.
While a set of floorstanding speakers may make sense in a home theater or media room,
However, other rooms can have great sound as well without the speakers being a prominent visual feature.
Architectural loudspeakers
Most people are familiar with in-wall and in-ceiling speakers.
What you may not know is that you can get them in a smaller form factor that closely matches the size and shape of your recessed lighting.
This makes the speakers really blend in, and there are also in-wall subwoofers
And in the ceiling it can provide some extra bass without the big black box on the floor.
Invisible speakers
If you really don't want to see the speakers at all,
invisible speakers can be installed during the construction phase that blend perfectly into the wall.
It's also muddy and painted, just like drywall, so even the keenest eyes can't see it.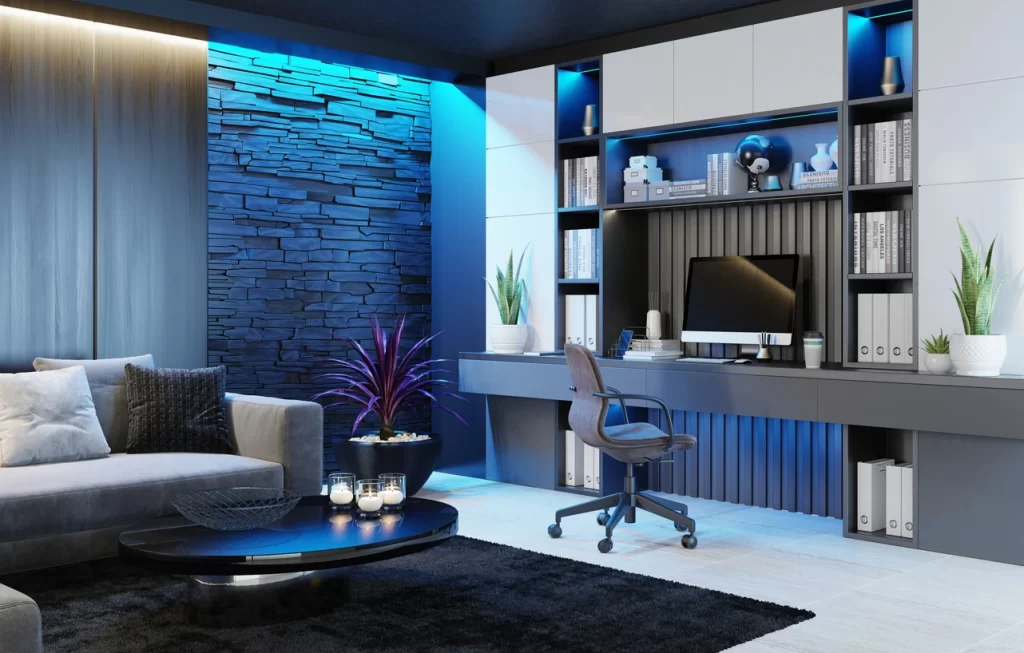 Lighting control
A smart lighting system isn't just for convenience, it can enhance the look of your home as well.
Lighting control systems can be programmed to remember lighting "scenes" that call for specific
lighting levels for a room or entire house.
You can also set all the lights to the perfect level for any mood or activity you want
and remember with the simple push of a button.
Electronic components
Sometimes, there just doesn't seem to be a good place to hide the AV components needed for TV,
music, and networking.
This is where audio and video distribution comes into play, as we can take all these components
(cable boxes, media streaming devices, Blu-ray players, speakers,
surround sound receivers, etc.) and integrated into an equipment
rack located in a room or closet of your choice.
All of those hidden devices can then be distributed and shared throughout the home.
Add a smart home control system that is simple and easy to use.
See More: Future innovations in the field of interior design