A restaurant booth (also known as a food kiosk/booth) is simply a small business with the purpose of preparing various options of drinks and foods then selling them to many customers in public.
There is no doubt that you have seen one before, but we guarantee you that you have never seen this particular restaurant kiosk with such a modern and distinctive architectural design.
In this article, we will be introducing this creative architectural design to you, and explain several important points you need to be aware of in order to start a successful restaurant kiosk business.
What is a restaurant kiosk?
Starting off with the definition of a restaurant kiosk, which is also known as a food kiosk, is simply a small structure with two open sides.
The idea of this type of business is very straightforward, it is to prepare several foods and/or drinks then sell them to various customers in public.
Once you start a restaurant kiosk or a food kiosk, you can sell different types of food snacks as well as hot and cold drinks.
Examples of these products could be coffee (hot or cold), juice, soda, hotdog, corndog, popcorn, cotton candy, ice cream, and many others.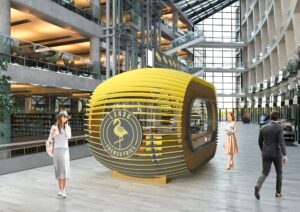 How to choose the right location for a restaurant kiosk?
For every on-site business, location is extremely important. It plays an essential role in the success of the business. Many customers would stop going to a certain business location just because of site inconvenience. In the case of a restaurant kiosk, there are several appropriate location options in which you can set up your restaurant kiosk.
Generally, the most suitable ones would be densely populated areas such as near various stores and companies, collages, parks, festivals, or even in the middle of a city or on a highway in which many walking people would want to stop to have a quick break and grab a snack or a drink.
What are the most important elements in a restaurant kiosk?
Color
It is a well-known fact that colors have an impact on everyone's moods and emotions.
Our architectural team is extremely careful when it comes to choosing the colors of our designs. Some colors can give viewers positive energy and enlighten their mood, whereas other colors can ruin it.
Thus, we chose yellow as it is the color of the sun, smiley faces, and sunflowers. It is a very happy, youthful color which is why we chose it for a restaurant kiosk. Also, it can easily attract customers and grab their attention from far.
Size
The size of the restaurant kiosk is essential as well.
We designed this kiosk to be a perfect size. Inside, it can fit all required equipment and goods including stoves, coffee machines, electric boilers, juice blenders, freezers, etc. as well as all the food used for taking customer orders.
Additionally, we made sure the outside window is wide enough for customers to see how the food is being made.
Conclusion
To sum up, there is no doubt that we all have heard about the entrepreneurs who became millionaires just by starting food restaurants. However, not many people are lucky enough to raise sufficient capital to afford to start running their own food restaurant. As a result, a restaurant kiosk may be more suitable for them.
You can follow more articles on INJ Architects, also you can follow more articles on ArchUp