Major projects and interior design,
Are you interested in interior design projects that your favorite designers have worked on? Then, this is the article for you.
We have carefully selected premium interior design projects from design firms from around the world that stand out from the crowd and deserve recognition for it.
These projects represent the latest trends in the world of residential interior design. Luxury pieces of furniture have been used.
In addition to the perfectly planned decor elements.
These projects are not ranked in order of greatness because we consider them all equally outstanding.
1. Simon Hague : East Melbourne
To develop the East Melbourne project, her client Liz Hall encouraged Simone Haag to make bold choices with the furniture;
Investing in one-off vintage pieces, and curating artwork, sculpture and objects as part of a commission.
Nicholas Murray Architects also played a major role in bringing this project to life.
From vintage Italian Z-shaped bar carts to Australian Featherstone chairs,
Sources cast a wide net, and negative space highlights the individuality of objects.
According to Simone's website, the elegant result of this residential project resulted from stubborn determination and cohesive collaboration with her client Liz,
Who was ready to start the process and who participated greatly in the interior designs and cooperated with the team in the furniture.
2. Chris Turnbull: Mid Ulster, Northern Ireland
This outstanding interior design project has embraced classic grace and splendor, being undoubtedly one of the finest luxury family homes in Northern Ireland.
An extension to the beautifully designed orangery has been included, creating an exceptionally spacious home,
Which offers an abundance of light, impressive dimensions and unparalleled family accommodation.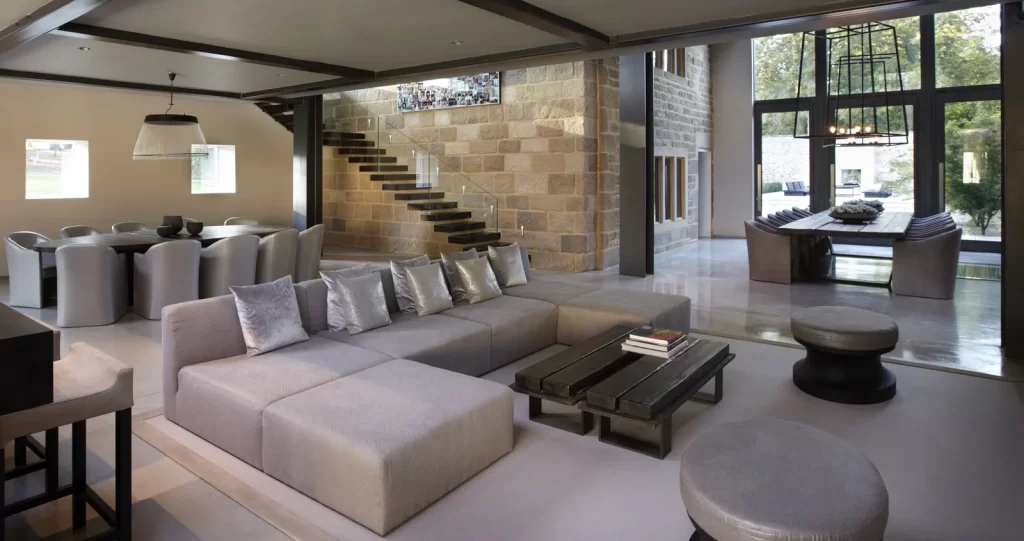 3. Simon De Gale Architects : Luxury family residential home
This distinguished interior design project joins three apartments on the seventh floor of a new upscale residential development
Near the university area across the Black Sea in Batumi, Georgia.
According to the company, when first commissioned, the client approached the team from the perspective of their two sons growing beyond their teenage years.
As such, they wanted to keep three separate apartments, one for the couple and two for their children.
In order to show how beautiful it is to look beyond privacy while growing,
The architecture firm decided to engage in a design process that would uphold family values.
They accomplished this by proposing  a luxurious full-floor family apartment, which features  a large reception space for guests and  private spaces suitable for family members.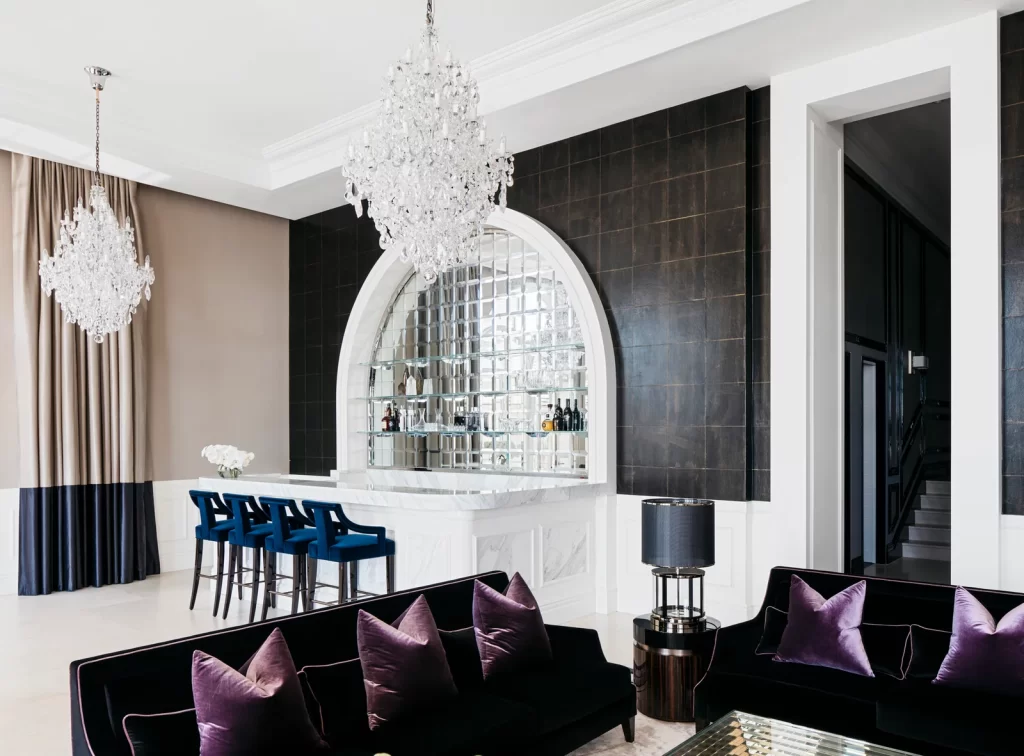 4. Fiona Barratt Interior Designs : New family home in Harrogate, Yorkshire
The fourth outstanding interior design project on this list belongs to Fiona Barratt Interiors. On her official Instagram account,
Fiona Barratt called the living room in this project " Living Room Goals ".
The original Georgian cross-coloured window is the focal point of this luxurious yet simple living room.
This 24,000-square-foot stone-built Georgian mansion in the Yorkshire Dales is split into two levels and once housed monks.
5. North Blainey : Old Grid
Hindu planning principles of alignment and space influenced the architectural design of this grand waterfront residence in Sydney.
Strict precision has been implemented through the use of a grid system, with reference to the Shilpa Shastra texts,
Along with a nod to 20th century French architecture.
Located on a sloping site, the Blainey North team created a series of platforms resulting in a gradient floor plan.
A central spiral staircase connects each level of the site, featuring a bold black-painted stair rail
Trace details of a white French paneled wall on each floor.
An abundance of natural light is echoed on each floor through  ornamental steel-framed skylights.
See More: Premium and environmentally friendly building materials